GeoTeric 2017.1 Release - Redefine Your Seismic Interpretation with Adaptive Horizons
GeoTeric 2017.1 is our biggest release yet with lots of new functionality. 2017.1 launches our brand new unified seismic interpretation platform with the new Adaptive Horizons, harnessing the power of cognitive decision making.
The new Adaptive Horizons use Regional Structural Awareness, based on a patent pending graph theory approach to guide the horizon through the data whilst still allowing the user full control over the interpretation result.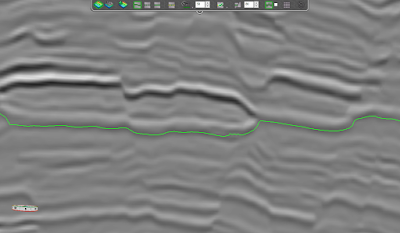 Due to its Regional Structural Awareness, the Adaptive Horizons know how to cross events.
Users get an interactive preview of alternative routes.
3D edit functionality allows you to edit the surface on the fly in the 3D scene, saving time.
When upgrading old projects, any previously interpreted Adaptive Horizons will be converted to the new format automatically.
You can also convert a static Horizon surface that has been imported from file or via one of the 3rd party links to an Adaptive Horizon for further editing. The new Adaptive Interpretation platform also contains a 2D interpretation and base map window, fully synchronized with the 3D view.
We have also made many general improvements to GeoTeric to enhance the interpretation experience, including:
Linked Cursors between all the windows.
Easy slice manipulation with playback controls.
Automatic Save session - GeoTeric now starts up where you left off.
New survey grid in the 3D scene.
Extended surface overlay functionality.
Right-click option in the 3D scene to create slices.
Right-click option in the 3D scene to Reset probe.
Arbitrary Lines can now be moved and edited and the draped data updates on the fly.

To move the entire line, simply click on it and drag it.
To edit individual points on the Arbitrary Line, right-click on and select Edit line.
We have also improved performance and added cursor location reporting.
GeoTeric 2017.1 Also Contains Several Extensions for Handling Well Data in GeoTeric:
Well correlation panel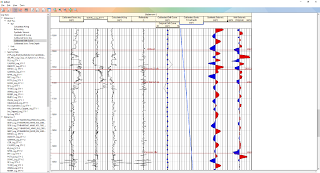 Multi well and log display.
Correlate your markers.
Assign lithologies
Synchronized 3D and 2D edit.
Scaled plotting.
Seismic to Well ties
Sonic Calibration.
Synthetic seismic.
Single or multi point stretch and squeeze.
User defined Ricker wavelet.
Well cross sections: Right click on any well(s) to draw a section between them. The section can then be draped with any attribute in the standard GeoTeric way.
Multiple well marker import using a simple ASCII loader
Further general enhancements:
Improved Fault Detect algorithm where the value has a more direct relation to the confidence level.
If the Expression tools can't detect a supported graphic card, they will inform the user.
Extensions and issues resolved with GeoTeric's 3rd party Links:
Link for Petrel:
Compatible with Petrel 2015 & 2016
Extended CRS handling when transferring wells, faults and polygons.
Improved depth to time unit conversion between GeoTeric and Petrel.
Scale for volume import now defaults to Auto Scale.
Resolved issues with:
If the Petrel project contained lots of volumes, in some circumstances, no volumes appeared in the link UI. This has been resolved.
For some blends, the Z value was modified during transfer, this has been resolved.
We have also changed it so that names with @ no longer throw an error when transferred.
Link for DecisionSpace
Compatible with DSG 10.ep2, ep3 and ep4.
Certified by Landmark to be used with 10 ep.3.
All the functionality that was in previous version of the Link is still available.
Polygons can now be transferred both ways.
Link for PaleoScan
Issues around scaling of floating point data have been resolved.
If you would like more information on the release or a link to download it, please contact our Support Team.
Want to see more about the latest release 2017.1? Then go to the What's New Video.