Join us online for the European Association of Geoscientists and Engineers (EAGE) Conference on Seismic Interpretation using AI methods, 12-13 October 2021.
As seismic interpretation experiences the revolutionary impact of AI, we're excited to join as main sponsor for this conference. Focusing on the evolving AI offering in the market under the theme going beyond Machine Learning, the conference will examine the partnership between AI and human interpreters.
Technical Programme | Wednesday 13 October 3.45 -4.05 PM MYT (GMT+8)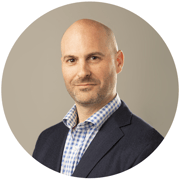 Director of Innovation, James Lowell will present the latest AI workflow that understands the interplay between horizons and faults and has an awareness of other geological features (captured within geobodies) in his presentation titled "AI Seismic Interpretation".
View the technical programme here.
Technical Committee
In addition, our SVP Global Sales & Marketing, Owen Lee joins the committee. The panel is composed of industry specialists within the topic's area.
If you would like more information head over to our AI integration guide or contact our team today for a demo today at info@geoteric.com.