We are very pleased to be returning to the EAGE Conference & Exhibition, this year to be held in the romantic city of Paris.
When: 12th -15th June 2017
Where: Paris expo Porte de Versailles, Paris, France
Booth# 825
We are delighted to release our full on-booth theatre schedule for the EAGE. We will showcase all of the latest additions to GeoTeric, as well presenting how GeoTeric can redefine your interpretation with its brand new, market first Adaptive Interpretation System.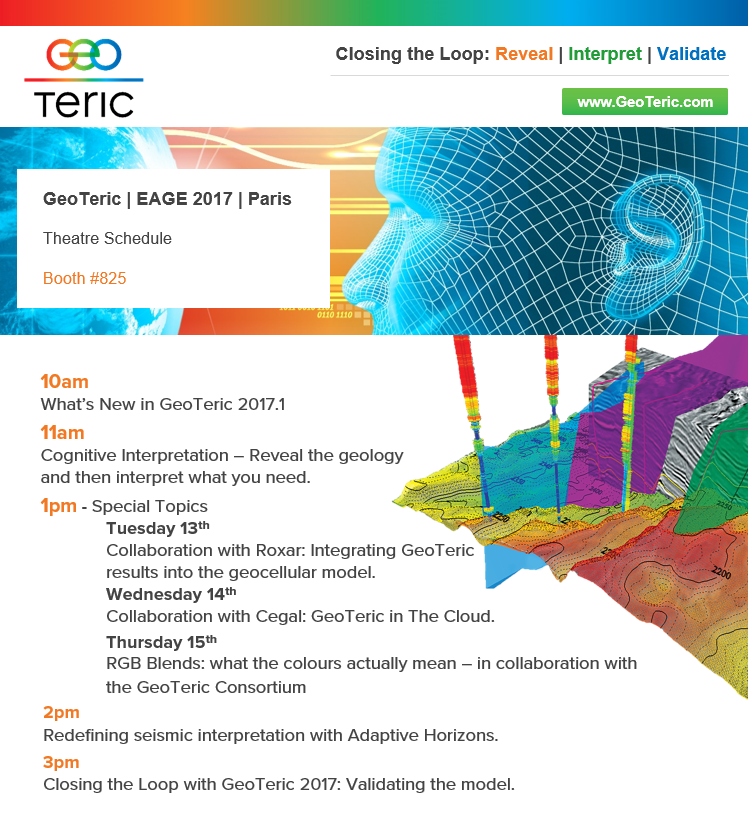 We're also thrilled to announce that we have five oral presentations featuring GeoTeric in the EAGE Technical Programme.
GeoTeric in the Technical Programme
"De-risking of frontier exploration targets using cognitive interpretation techniques offshore Equatorial Guinea"
Session: Petroleum Systems of Sub-Saharan Africa (Dedicated Session)


Tuesday 13

th

June 2017 @ 11:45am


Room C1


Presenter: Ryan Williams (GeoTeric)

"Seismic Interpretation with Regional Structural Awareness - A New Interpretation Technique"
Session: Seismic Interpretation – New Workflows and Case Studies I


Wednesday 14

th June 2017
4:45pm
Room A3


Presenter: James Lowell (GeoTeric)

"Calibration of frequency decomposition colour blends using forward modelling; examples from the Scarborough gas field"
Session: Seismic Modelling – Acoustic I


Thursday 15

th

June 2017 @

8:55am
Room A4


Presenter: Peter Szafian (GeoTeric)

A Cognitive Approach to De-risking the Thebe Discovery and its Future Potential"
Session: Exploration Plays, Prospects and Prospect Evaluations I


Thursday 15

th

June 2017 @

9:20am
Room D3


Presenter: Ryan Williams (GeoTeric)
GeoTeric Collaborations in The Technical Programme
"Identification of dolomite bodies using seismic attributes: a case study from the Arabian Basin, onshore Saudi Arabia"
Session: Seismic Reservoir Characterisation – Stochastic Methods and Workflows


Tuesday 13

th June 2017 @ 11:45am
Room B4


Presenter: Mohammed Almaghlouth (Imperial College, London)