Next up in our 'meet-the-team' series is Head of Human Resources (HR), Sharon Hardy. As an experienced HR professional with almost two decades of experience in the sector, Sharon has a reputation for delivering practical and effective HR strategies to engage employees. Sharon has been with Geoteric for 12 years, which means she knows the business inside and out.
Here, Sharon shares how Geoteric is committed to retaining and recruiting the best talent, offers career advice for someone interested in geoscience and innovative technology and reflects on what it's really like to work at a global AI Seismic Interpretation software company.
What does a typical day at Geoteric look like for you?There is no typical day! Every day really is different at Geoteric. When we are hiring, recruitment can dominate my time, as it can be a challenge to find the specialist skills we need. However, I may also spend time supporting managers, implementing engagement initiatives, reviewing our benefits programmes or consulting with employees across Geoteric. I'm also the Environmental, Social and Governance (ESG) and Data Compliance Officer in the business, so recently I've been building out this ever-important strategy. Every role in an SME is varied, not just HR, and I think this broad spectrum of responsibilities is part of the appeal of working at GeotericWhat is Geoteric's approach to talent management? How do you ensure you can recruit – and retain - the best and brightest talent into the team?Over the last few years, we've given employees a lot of autonomy over where they want to work – whether that's in our offices, at home or occasionally in another location. Our offices remain open as a space for collaboration, social contact, and for those who prefer to work there routinely. Ultimately, we've asked people to consider what they do and where they can do it most effectively.
This approach, along with a newly refreshed benefits package which includes a nine day fortnight work pattern, and the opportunity to work with exciting technology, really helps to attract and retain the brightest talent. We're constantly evolving our product offering, providing our people with stimulating, innovative and challenging work.What attracted you to a role in HR? Was it something you always wanted to do, or an interest that evolved over time?
I really wasn't aware of HR until well after I graduated. I joined a graduate management training programme with Marks and Spencer, a leading UK retailer, which gave me an excellent experience in general management. From there, my interest in HR evolved and I was drawn towards people management, leading me to complete professional qualifications with the Chartered Institute of Personnel and Development, culminating in achieving Fellowship status.Tell us a bit more about the journey that led you to join the team at Geoteric.I've spent most of my career in larger corporations, both in HR and general management roles. At an earlier stage in my career, I took the opportunity to join an SME for a few years and I thoroughly enjoyed working in a smaller organisation. When the opportunity arose to join Geoteric, I was attracted to the prospect of working for a smaller team again, so I took this exciting opportunity and haven't looked back since.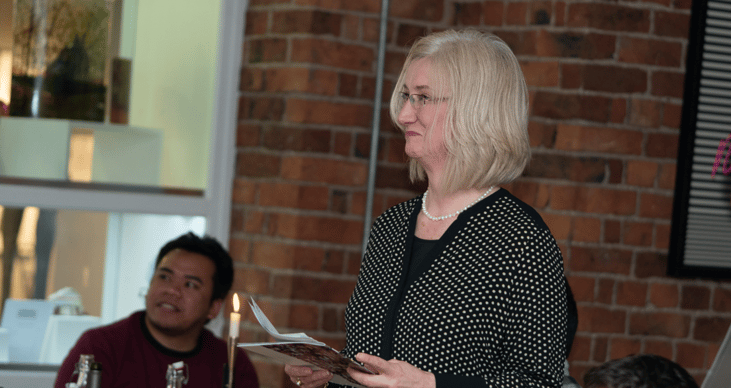 Sharon Hardy, Head of HR has been with Geoteric for 12 years
What's the most interesting thing you have learned about geoscience since joining the team?How much our people can get excited by rocks! When I first started, it struck me how animated our team got about geology. One notable moment was a field trip where they told me they were a 'bunch of rock geeks', and I saw first-hand just how passionate they are about the job they do.How has the team developed since you joined – for example, has it expanded? Have new roles with different skill sets been added?It's evolved hugely. The team looks very different from what it was 12 years ago. We're continue to evolve as a business and refine our processes which leads to a variety of new roles and skillsets.The Geoteric team is based all over the world. What's it like to work with a team across different locations, and how do you promote a sense of togetherness?It's a challenge, even at a practical level as there's such international variety across employment law, benefits, recruitment practices and culture.
When teams are dotted around the globe, you may be working with colleagues you've never met face to face, and sometimes that requires a different approach to ensure we create a sense of togetherness. What really brings and keeps us together is the Geoteric culture. We focus on promoting consistency around how we communicate, recognise and reward employees in the business, irrespective of where they are located.
When we recruit, in addition to the job specific skills, we look for the personal attributes that allow teams to integrate easily and work well remotely.What are the most important personal attributes a person can have to work with a company like Geoteric?Intellectual curiosity is key, and a focus on quality outcomes. People who ask questions to enhance their understanding and challenge the status quo help us push boundaries and improve our effectiveness. A relentless drive to learn and adapt to perform tasks effectively, and the ability to turn your hand to different responsibilities, are key when working at an SME.
We are fortunate to have a culture of mutual respect across Geoteric and we encourage everyone to express their opinions and ideas. Everyone is talented in their own way, and in a small team it's obvious that everyone makes a difference. When someone isn't around, you really notice it! People who share their knowledge and encourage others to do the same will thrive in our team.What do you think is the best thing about working at Geoteric?For me, it's the size of the business. I hold 1:1s with new employees around three to four months after they've joined the business to check in on their initial experiences and observations, and quite often they mention how much they enjoy attending meetings where they encounter and can talk to the CEO. There isn't an overbearing level of hierarchy, and the level of expertise across the business is outstanding.What career advice would you give to anyone thinking about a career in geoscience or AI?I think it would be the same piece of advice I would give to just about anyone starting a career in any field. Choose what motivates you most and think about what sort of company you might be happiest working in. That's a great starting point.Tell us something about yourself that would surprise most people.Although I'm Scottish, I don't enjoy whisky, watching rugby or playing golf. My husband often asks me: "are you sure you're Scottish?". However, I do like haggis, and I can dance the Highland fling!