The potential impact of Artificial Intelligence within E&P organisations is only just starting to be realised. With increasing compute power, improved data processing speeds and advances in technologies (such as "Deep Learning") neural networks), AI will likely continue to be a disruptive technology that will change E&P organisations for many years to come.
Although AI can be used within many workflows, some of the most significant progress has been within seismic interpretation. In particular, the detection of faults. The identification of seismic faults in a good example of a task that is challenging and time-consuming for geoscientists, yet, with the right network architecture and training, achievable in a short time to a level of completeness and accuracy that is far outside the reach of most interpreters.
We believe that geoscientists should be central to any G&G workflows. Therefore, we are developing our AI technology to be closely aligned with the interpreters' way of working, allowing tightly coupled interaction as appropriate for the dataset and the individual interpreter, making AI seismic interpretation a reality.

Technical Programme | Mark your diary - Thursday 18 February 14:00 GMT +1
Senior Geoscientist, Ryan Williams, will showcase a case study of a new workflow that integrates human experience with AI prowess to deliver a step-change in the seismic interpretation process in his presentation titled "Integration of Human and Artificial Intelligence Technology to Identify Sub-Seismic Features".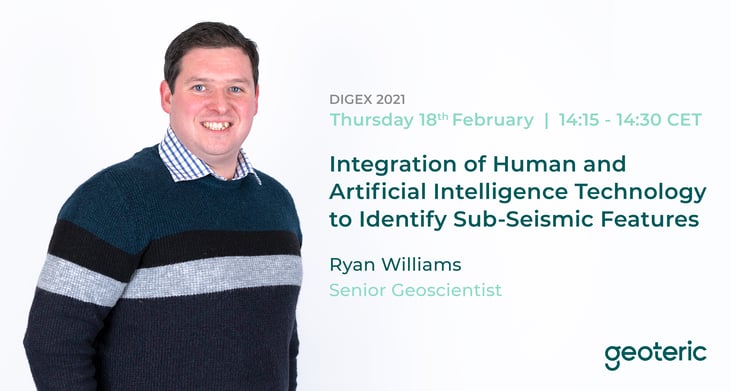 Click here to find out more about the event.
Ask us a question | We're here to help
In addition, our team of experts be on hand in our virtual booth to highlight how Collaborative AI and Geoteric Stratum™ can effectively be incorporated within your subsurface workflow which can be tailored to the characteristics of the given data set for collective knowledge sharing and refined results.
In the meantime, it you would like more information on AI integration head over to our AI integration guide or contact our team today for a demo at info@geoteric.com.
We hope to see you there!