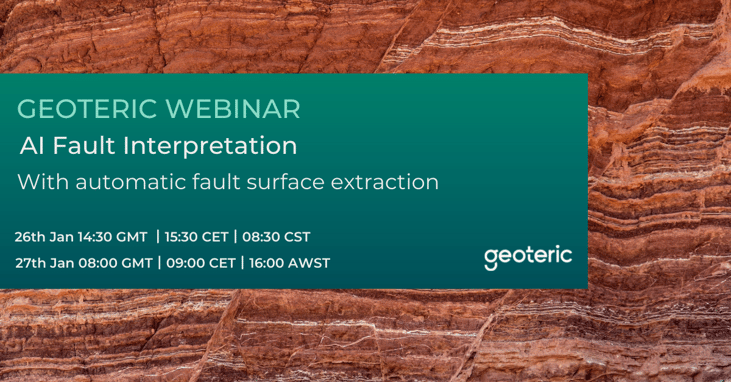 Find out how Geoteric AI fault interpretation is shortening cycle times of subsurface projects around the world in our latest webinar taking place on Wednesday 26th January at 14:30 GMT (08:30 CST) and Thursday 27th January at 08:00 GMT (16:00 AWST).
Understanding subsurface structure is critical in optimising asset plans, well safety and sustainability projects such as Carbon Capture and Storage (CCS). Geoteric AI is a trailblazer in the industry; pioneering state-of the art tools to detect faults in seismic data that may even be invisible to the human eye, giving the interpreter more confidence to better understand compartmentalisation, trap and seal integrity, geohazards as well as increasing production rates.
Luis Gomez, Senior Geoscientist will explore the following:
The advantages of pre-trained networks and immediate AI results

How you can improve AI results with fine tuning

How to preserve learning from project to project and create your own company networks

Creating more accurate subsurface models in less time with automatic fault surface extraction

Tern-Eider Ridge Case study

The webinar presentation will last no more than 20 minutes. This will be followed by a Q&A session of around 10 minutes. You can post questions in the chat box during the presentation itself and will be addressed at the end of the webinar, along with any further questions.


This webinar will be delivered across two sessions to cover both the Eastern and Western Hemisphere. Please use the links below to register:
Western Hemisphere
Wednesday 26th January | 14:30 GMT | 08:30 CST
Eastern Hemisphere Thursday 27th January | 08:00 GMT | 16:00 AWST

Spaces are limited for this event, so please register early to avoid disappointment. For more information, visit https://www.geoteric.com/ai-faults-3d-networks or contact us at info@geoteric.com.