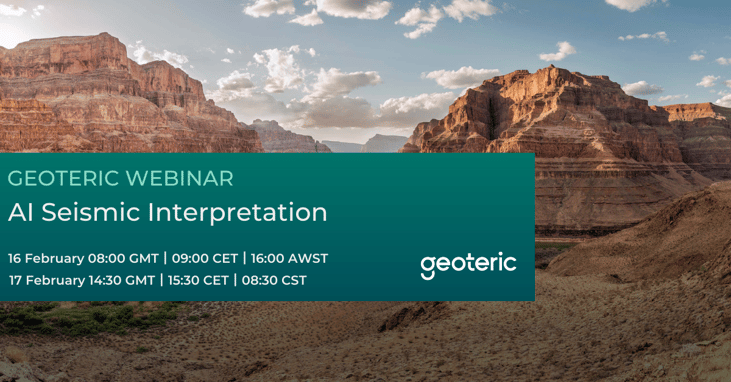 Webinar: AI Seismic Interpretation with structurally aware, high resolution AI Horizons

Completing your workflow with Geoteric AI Horizons. The most detailed and advanced AI seismic interpretation on the market with unparalleled subsurface accuracy. Project cycle times are dramatically reduced without compromising on quality, resulting in greater efficiencies in sustainability projects, field development and increased well safety.
Dr Ryan Williams, Senior Geoscientist will explore how to:
Combine AI Faults & AI Horizons to reduce subsurface project cycle times

Interpret 100% of your data with increased speed & accuracy

Use alongside Geoteric's colour blends to better understand reservoir characterisation

Transfer data to your 3D geocellular models for static property population and flow simulation

Global case studies

The webinar presentation will be 30 minutes long including a Q&A session. You can post questions in the chat box during the webinar and they will be addressed at the end of the webinar.


This webinar will be delivered across two sessions to cover both the Eastern and Western Hemisphere. Please use the links below to register:
Eastern Hemisphere
Wednesday 16 February | 08:00 GMT | 09:00 CET | 16:00 AWST
Western Hemisphere Thursday 17 February | 14:30 GMT | 15:30 CET | 08:30 CST

Spaces are limited for this event, so please register early to avoid disappointment. For more information, visit Geoteric AI Horizons or contact us at info@geoteric.com.