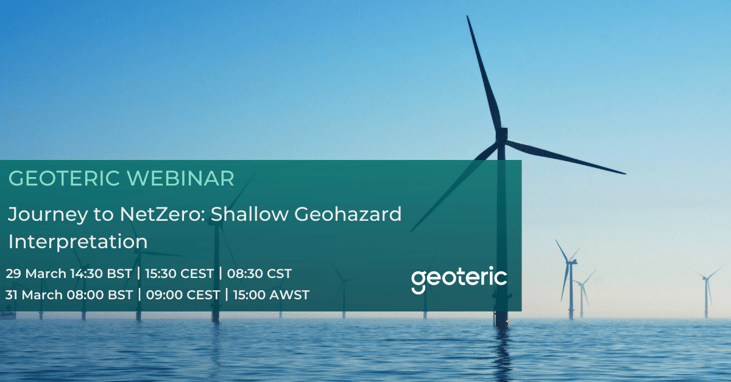 Webinar: Journey to NetZero - Shallow Geohazard Interpretation
An increase in the demand of renewable energy is driving the growth of offshore wind farms. The number of sustainability projects is set to increase rapidly as we transition to cleaner energy sources. Understanding the conditions of the seabed and the shallow subsurface are critical in the avoidance of many types of geohazards which could potentially impact on the safety and cost of engineering operations, as well as the longevity of the structures being installed.
The sessions will be taking place on Tuesday 29 March at 14:30 BST (15:30 CEST, 08:30 CST) and Thursday 31 March at 08:00 BST (09:00 CEST 15:00 AWST).
Peter Szafian Head of Geosciences, will explore:
Minimising risk & ensuring sustainability projects stay on budget; techniques to identify the best locations for the seabed and sub-seabed infrastructure in wind farm placement

How established Geoteric seismic interpretation techniques and new AI workflows, developed for the deeper subsurface, can be applied on traditional exploration data to reveal shallow geological features

The uplift provided by dedicated ultra-high resolution surveys

How high-resolution attributes and 3D ultra-high resolution seismic offer a new level in understanding and ensure a more robust input for the geotechnical model and the infrastructure planning phase

Case study: TNW 3D survey (North Sea, Netherlands) and global examples

The webinar presentation will be 30 minutes long including a Q&A session. You can post questions in the chat box during the webinar and they will be addressed at the end of the webinar.


This webinar will be delivered across two sessions to cover both the Eastern and Western Hemisphere. Please use the links below to register:
Western Hemisphere
Tuesday 29 March | 14:30 BST | 15:30 CEST | 08:30 CST
Eastern Hemisphere Thursday 31 March | 08:00 BST | 09:00 CEST | 15:00 AWST

Spaces are limited for this event, so please register early to avoid disappointment. For more information, visit Geoteric Sustainability or contact us at info@geoteric.com.