The distribution and 3D geometries of carbonate reservoirs are often difficult to understand, at all scales (micrometres to kilometres), due to their heterogeneity.
Understanding the 3D geometries of Karsts and dissolution features is important for many things e.g. b
uilding an accurate geological model, u
nderstanding porosity evolution and therefore reservoir quality, i
mproving volume estimations and r
educing drilling hazards
Similarly, understanding the 3D geometry of Reefs and Build-up features is important for i
dentifying the extent and shape, u
nderstanding the depositional episodes, bu
ilding an accurate geological model and i
mproving our understanding of reservoir quality and volume estimation
The Adaptive Geobodies Tool can help create a 3D representation of these diagenetic features so that their extent, morphology and connectivity can be understood throughout the reservoir, not just at the top surface.
In this example, an RGB Blend has been used as a stratigraphic reconnaissance tool to define the area of interest and, in addition, it has been used to source the Adaptive GeoBodies.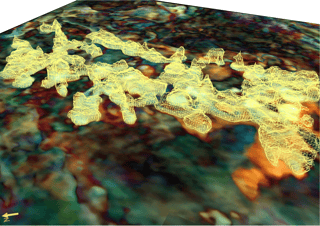 RGB Blend & Adaptive GeoBodies in 3D View
The Adaptive GeoBodies is then outputted into the project tree as a GeoBody Volume. To do this right click on the generated GeoBody and select; Create ROI/Volume and follow the steps. Once the volume is created we can use the Opacity Curve to remove the zero values.

The next step is to open Processes & WorkFlows, and select; Processes, GeoBodies and Thickness.

In the Thickness parameters window, the input volume is the Geobody Volume, segmentation method is the Opacity Curve, operation is Thickness and direction is Z.

The outputted volume needs to be viewed as a volume render.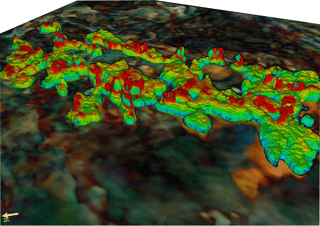 RGB Blend & Adaptive Geobodies showing Thickness in 3D view
In the image, above, the colours are representative of thickness where red indicates the thickest parts and blue the thinnest. What is immediately noticeable between the two, is that the geometry of the carbonates is very comparable to how carbonate systems appear in the real environment. We can easily distinguish carbonate platform like structures, carbonate pinnacles and even areas of dissolution. The Adaptive GeoBodies resembles realistic carbonate geometry characteristic thus allowing the user to visualise the data in a geological context.

Comparison between real world Carbonate Environment & Adaptive GeoBodies Carbonates in 3D view.