Creating new workflows by integrating advanced technologies for seismic imaging and interpretation.
(by Ingelise Schmidt (Maersk Oil), Sebastien Lacaze (Eliis), Gaynor Paton (ffa))


Identifying geomorphological features from seismic has been the aim and the challenge since the first seismic was recorded. Although the quality and resolution has improved beyond expectations from those early days, improvement of imaging and interpretation techniques are continuously on-going and new and enhanced tools are regularly presented, with potentials that are not always evident at first glance. This paper will present how integration of a novel interpretation technology using a Relative Geological Time (RGT) model and spectral decomposition imaging can be combined into a powerful workflow for interpreting and imaging geomorphological features from seismic data which are not readily resolved using conventional techniques. Geo-bodies can then easily be extracted within a stratigraphic framework established using the thickness attribute cube derived from the RGT model. The workflow will be demonstrated and supported through case studies.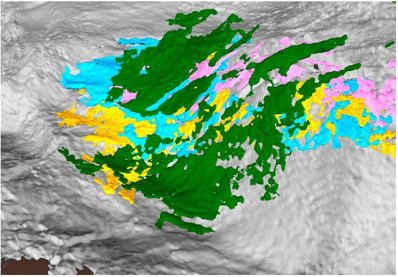 Geo-bodies extracted from spectral decomposition, within stratigraphic layers

Download full paper: