From first break volume 33, October 2015
by: Mark Andrew Ackers (Centrica) and Bjørn Kåre Lotsberg Bryn (Centrica)

Abstract: Shallow remobilised sand mounds found in the Miocene and Oligocene sections of the North Sea are thought to be caused by the migration of gas from deeper within the basin, which instigates sand liquefaction and lateral remobilisation in unconsolidated sandy units. It has been proposed that these processes can be equally applied to understanding mounded sand geometries observed in the Eocene and Palaeocene reservoirs of the northern North Sea, although the driving fluid phase may vary. Through the linkage of examples of shallow and deeply buried mounds, and their respective geomorphological settings, a set of common characteristics will be developed that appear to support the theory that similar processes are involved in the creation of shallow and deeply buried mounded structures. This theory has implications for hydrocarbon exploration since shallow unbreached mounds are more likely to contain gas-filled sandstone reservoir whereas deeply buried mounds could be oil-filled. The prerequisite for mound generation in the studied examples appears to be gas generation and migration within the basin. There then appears to be, in this case, a genetic relationship between the presence of primary sand depositional features (terminal splays or confined channels), mounds and candidate pockmarks in the unit undergoing remobilisation.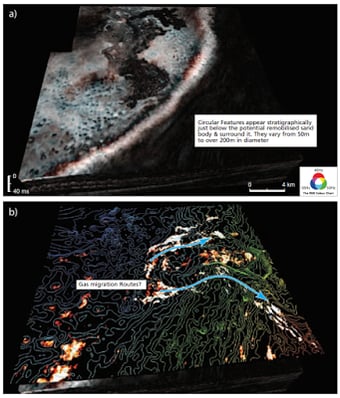 Figure (a) RGB blend of 40Hz / 50Hz / 56Hz spectral components derived from full stack seismic data. (b) Interpreted gas migration surface with envelope attribute extraction overlain. Contour Interval (CI) = 5 ms, blue (deep) to red (shallow).

Click
here
to read the full case study
using Cognitive Interpretation workflows.