Join us for the EAGE 2020 Annual Conference and Exhibition, 8-10 December!


The largest multidisciplinary geoscience and engineering event is now online! Make sure to drop by our virtual booth to view our technical presentations and connect with our experts directly through live chat.

Our local team will be on hand to demonstrate our recently launched revolutionary seismic interpretation products, powered by artificial intelligence (AI): Collaborative AI and Geoteric Stratum™. As Geoteric's technology continues to accelerate the energy transition, we are proud to report since its release, Geoteric Stratum continues to be ranked #1 across seismic interpretation benchmarking studies. Click here to learn more.

In addition, the team will showcase Geoteric 2020.2 which delivers Collaborative AI Faults, provides automated fault stick extraction between horizons and updates the creation of multiple surfaces from interpretations in one easy selection.


Technical talk:
We are also proud to participate in the technical program where Abdulqadir Cader - Senior Geoscientist, will present his paper "AI Fault Delineation: A Case Study Using Valhall OBS Data"! Tune into the Data Management and ML Driven Seismic Interpretation session on Wednesday, 9th December (14:00 - 15:00 CET | 5th speaker) to learn more. View the full abstract here.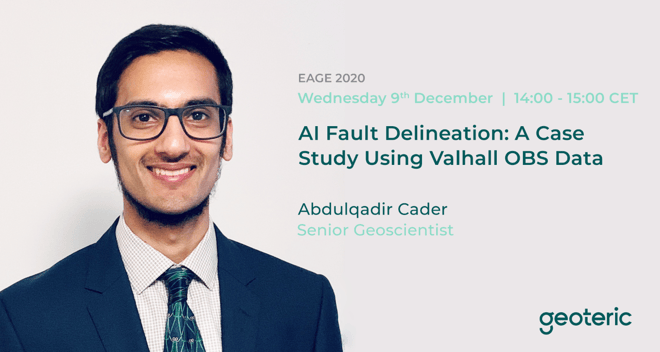 Booth presentations with Q&A:
Booth presentations will run daily from Wednesday 9th to Friday 11th December, between 14:30 - 15:50 CET, followed by a live Q&A with our team. Please click here to download the full schedule.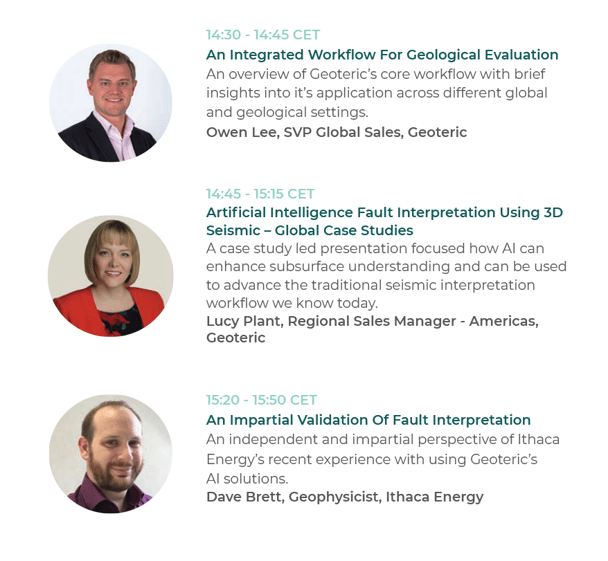 Schedule a meeting/demo:
If you would like to schedule a meeting or a demo ahead of the event, contact Owen Lee, SVP Global Sales at Owen.Lee@geoteric.com.

See you there!