Newcastle, UK 7th December 2021
Geoteric, global AI seismic interpretation pioneers, have announced another ground breaking software update, with the addition of automatic fault surface extraction. This release comes just weeks after the last release which enabled their flagship module AI Faults – 3D Networks to be installed behind a company's firewall for the first time.
Automatic fault surface extraction gives the geoscientist the choice to select between individual faults, stratigraphic zones, or a complete volume, and can be used in both traditional edge-detection attribute workflows as well as AI seismic interpretation to benefit all Geoteric customers.
Complex subsurface structures such as polygonal faulting are one of the biggest causes of additional operational costs in new well delivery and a major threat to safety. By integrating AI Faults – 3D Networks into the workflow, subtle faults normally beyond human resolution are identified, and with user fine-tuning, best-in-class results are achieved to provide a more in depth understanding of the Earth.
Utilising these industry-leading results in the next stage of the subsurface workflow is crucial; automatic fault surface extraction uses AI-driven fault interpretation, allowing more accurate models to be created, with a higher fidelity to the seismic data, in significantly less time.
Owen Lee, Global SVP Sales & Marketing said:
"AI Faults - 3D Networks combines pre-trained neural networks with human experience to deliver an accurate, unbiased fault interpretation from seabed to target, even with challenging data quality.
"In Geoteric 2021.2 we've recognised the need to rapidly liberate best-in-class results for additional workflows. The ability to automatically extract faults in just a couple of mouse clicks is a game changer, and will bring benefits to all subsurface projects. Whether you are planning a new well or appraising a potential CCS site, cycle times are significantly reduced and subsurface understanding is improved."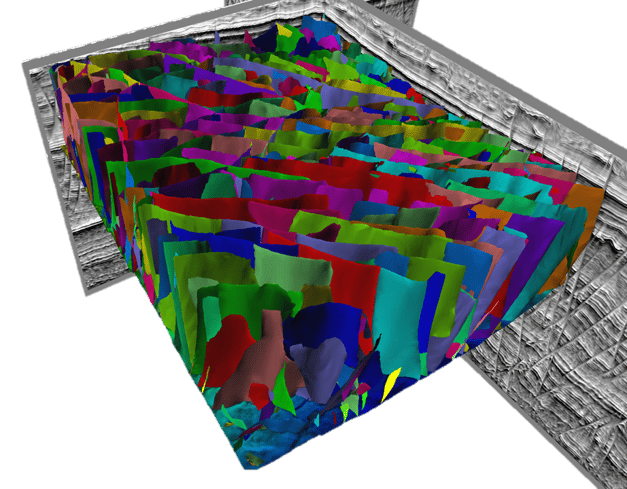 Individual or grouped faults can be passed onto subsequent workflows in an instant.
Availability
Geoteric 2021.2 is available now to purchase.
About Geoteric
Geoteric is a leading AI geoscience software and services provider to the energy sector, with tools designed to maximise subsurface knowledge. Together with its best-in-class seismic attribute and interpretation workflows, Geoteric is redefining subsurface understanding by automating labour intensive tasks.
Geoteric's AI technology enables a detailed seismic interpretation, in a fraction of the usual time, with a greater level of fidelity. Traditionally used by companies in hydrocarbon exploration and production, Geoteric continues to drive efficiency across the subsurface, supporting decision making in all energy projects including carbon capture and storage and wind farm placement, for a safer, cleaner, and more efficient energy system.
For full release notes click here.