Global AI software specialist Geoteric empowers geoscientists to choose how to interpret seismic data with two new neural networks in 2022.2
Geoteric, a world-leading provider of AI seismic interpretation software to the energy sector, has achieved an industry milestone by becoming the first supplier to bring six neural networks to market. The company has added two new neural networks, Acorn and Meranti, to its flagship AI Faults – 3D Networks module as part of a major update aimed at further enabling a better understanding of the subsurface
The AI Faults technology package, which reduces fault interpretation time by up to 95%, is used by over 40 customers worldwide to support business-critical decisions across the energy spectrum, from oil and gas extraction to carbon storage site verification.
The new release, Geoteric 2022.2, supports full-scale deployment across an organisation, integrating seamlessly with existing company workflows to deliver best-in-class results, especially in highly complex seismic data. Additionally, the ability to extract fault surfaces from Geoteric to third party modelling packages in a few mouse clicks allows swift continuation of geocellular model building.
Acorn, an untrained network can be trained and then further fine-tuned exclusively on a company's own seismic data, basin, reservoir or field, without any bias. Giving users the freedom to choose between multiple pre-trained networks and an untrained network means companies will have complete autonomy over how their seismic data is interpreted.
Meranti, the new, pre-trained network, allows users to fine-tune using fault sticks interpreted on in-lines and cross-lines, which more closely resembles traditional interpretation workflows. Introducing this interpretation method provides users with a faster route to more accurate subsurface visualisation for better informed decisions on well planning, field development or future production prediction.
Importantly, users can now share networks from project to project as well as between colleagues and teams, ensuring that crucial intellectual property is retained within an organisation. And with Acorn, companies can create their own in-house networks from scratch.
Mark Brownless, CTO at Geoteric, said: "We're continually working to further develop and improve our market-leading software for the benefit of customers, and the 2022.2 upgrade is part of our vision to provide the energy sector with innovative tools that inspire trust and confidence in results.
"This latest update offers greater flexibility to support different interpretation styles and networks, so that our customers and their geoscience teams can gain new and different perspective across the full scope of their energy projects, from field development to well delivery.
"Some users prefer to use the software straight out of the box to get instant results, knowing the time, effort and investment of training a network to a high standard using multiple data has already been completed. Other users want to have more control over their data and results. They want to be able to choose how they educate the network to a particular style of geology or seismic data.
"There is no right or wrong answer, and one option is not better than the other. It all comes down to the individual user and the question under consideration, that's why we are empowering them with options so they can decide what is right for them and their project."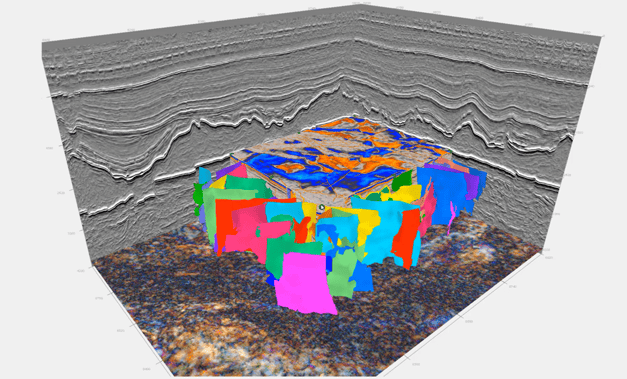 The new AI network, Meranti can be fine-tuned by fault sticks interpreted on in-lines and cross-line
Availability
Geoteric 2022.2 is available now, for more information get in touch - info@geoteric.com