Polygons are some of the essential products of seismic interpretation. For the mapping of features and estimation of areal extents, Geoteric provides polygon interpretation tools that allow these to be captured from the rich geological information revealed from the seismic data.
Polygons can be picked on any Volume, Color Blend, Opacity Blend, Horizon, or Slice, and activated in a number of ways. Right clicking on an item in the 3D scene, selecting the Interpret module, or clicking on the 'Polygons' main folder in the project tree will provide access to the 'Enable Polygon Picking' option.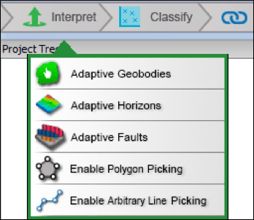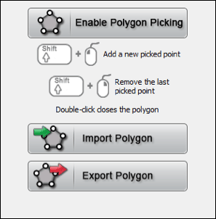 Once in this mode, simply hold Shift + MB1 to click individual points, or Shift + MB2 to remove the last point. Double click to connect the first and last points, and close the polygon. The areal extent will be automatically calculated and displayed.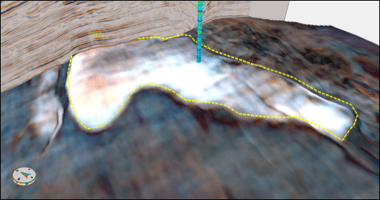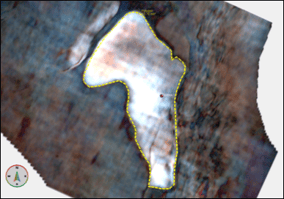 Once picked, the properties panel will display options for changing the appearance of the polygon, and shifting it to any position in the Z domain.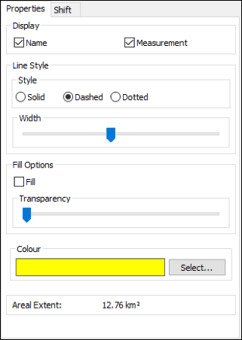 Tips:
For easier picking in a map view in the 3D scene, from the View menu, select Orthographic Camera (Ctrl+G) and View North or View Along Z to remove perspective from the display.

Polygons picked on horizons will preserve the horizon topography, giving each point an X, Y and Z value.
To import or export polygons, click on the Polygons main folder in the project tree, or go to the Project Manager. Following the export dialogue will allow you to export in one of the available formats. When importing, you can allow Geoteric to determine the format, or choose from the drop-down menu. You will then be prompted to analyze the file. Geoteric will detect the polygon or polygons present and notify you of any issues e.g. the polygon lying outside the survey area. Polygons of this nature may still be loaded.