In GeoTeric 2015.3 you have 3D output options available from all the Expression tools. These allow you to streamline your workflow and saves you time.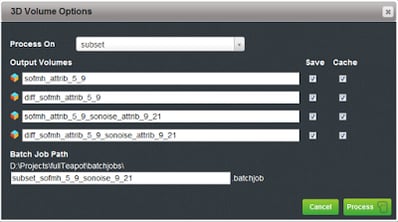 The output options will appear when you press Generate 3D in any of the Expression tools including the HDFD workflow. They all work the same and will allow you to:


Change the name given to your 3D result volume.

Choose which volumes you are interested in saving as part of the final result.

Choose whether you want to cache the 3D volumes or not as part of the process.

Choose to process on a different volume, making it easy to optimise for your data. For example, you can optimise your Noise Cancellation filters for a subset and then apply the same settings to the full volume.

Choose where to store the batch job created by Noise Expression and Fault Expression. The batch job file allows you to reload the entire workflow into GeoTeric's Batch Processor and run it on a different volume.